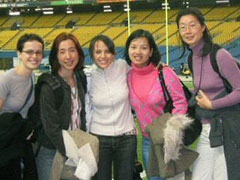 French-native speaker.
Intensive and/or part-time teaching of French as a foreign/second language for adults from different nationalities and levels.
Français langue maternelle.
Enseignement intensif et/ou à temps partiel du français langue étrangère/seconde pour adultes, toutes nationalités, tous niveaux .

My students and I (Olympic Stadium - Montreal)
SKILLS
Serious, dynamic, autonomous, able to work in a team and to adapt rapidly.

Ability to evaluate students' specific needs.
Experimented in educational materials development, and

placement and assessment tests

creation (written and oral).

Used and integrated new technologies (multimedia classroom: SMART BOARD; multi-plug cassette players; audio-lab; webCT).

Organised cultural activities aimed at adults from different nationalities and French levels

.
» See my resume for more information...
COMPETENCES
Sérieux, dynamisme, autonomie, aptitude au travail collaboratif, faculté d'adaptation rapide.

Capacité à diagnostiquer les besoins des étudiants.
Expérience dans la création de matériel pédagogique et dans l'é

laboration de tests de classement et d'évaluation (écrits et oraux).

Utilisation et intégration de nouvelles technologies (classe multi-média: tableau SMART BOARD; multiprises; laboratoires audio; webCT).

Organisation d'activités culturelles pour adultes de tous niveaux et toutes nationalités.
» Voir mon CV pour plus d'informations...